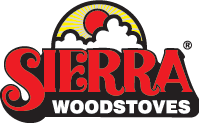 For more than 30 years Sierra Wood Stoves have provided engineering excellence, exceptional value, and versatility. With three product categories to choice from Sierra provides a complete wood heat product line. Wither your preference is high efficiency catalytic, non-catalytic, or thermostatically controlled Sierra has a quality product designed engineering to fit your need.
Sierra offers maximum installation flexibility with many installations that other stove companies do not provide. Our 800TEC Hearthstove ® with low overall height, top or rear flue outlet, and side loading door allows for installation in front of fireplaces or raised hearths. Our 2100 Hearthstove ® offers rear outlet without the side loading door. Our 4700 Fireplace Insert will fit the largest masonry and the 5300 Fireplace Insert will fit most of the small factory built fireplaces. Whether you have a house, farm, or shop you may consider our Shenandoah Thermostatic Wood or Coal Heaters. Sierra has it all covered!
Sierra Stoves exceed EPA Emission requirements and are safety tested to national standards. Style, Performance, and Value are attributes that define Sierra Wood Stoves. Maintenance is a snap with most units providing ash pans for easy ash removal and minimum tools required to remove most interior parts for cleaning or replacement. Thoughtful design throughout has provided a stove that is easy to install, operate, and maintain. Sierra Stoves is a name to remember!
Sierra Woodstove
Features:

Exceptional value and performance
Large Firebox for long burn time
Simple air control
Ash Removal System
Heavy Duty Construction
Wide variety of installations

Options:

Three Door Styles

Classic Metallic Black
24K Gold Finish
Satin Nickel Finish

Variable Speed Blower
Outside Air Kit (Mobile Home Approved)
Catalytic and Non-Catalytic Advantages
Sierra™ Wood Stoves and inserts are certified to the US Environmental Protection Agency (EPA) and are designed to produce low emissions. We manufacture both catalytic and non-catalytic designs, which use different technologies to achieve high efficiency and clean-burning performance.
The Sierra™ 8000 Catalytic wood stove and 4700 Insert are larger than non-catalytic wood-burning stoves, with longer burn times. Our catalytic wood stoves and inserts include a ceramic catalytic combustor in the upper firebox with a bypass damper to assists in easy starts. In a conventional stove up to 30% of the chemical energy may not be consumed in the firebox and can escape to form creosote which pollutes the chimney and the atmosphere. The catalytic combustor operates at high temperatures using this additional energy so you retrieve heat from the burning logs and from the burning smoke generating up to 50% more heat. The catalytic stove can reduce chimney creosote build-up, lessen air pollution, and decrease operating costs when compared to a conventional stove.
Our catalytic combustors are designed to withstand 12,000 hours of continuous use and come with a manufacturer's 7-year pro-rated warranty. Proper and regular maintenance will increase the effectiveness of the combustor and help optimize its life expectancy.
Non-catalytic wood stoves use refractory materials to hold heat within the firebox, and inject secondary air into the top of the firebox to further the combustion process. Sierra™'s non-catalytic wood stoves and inserts are very clean-burning and efficient. Non-catalytic wood stoves can be used for zone heating as well as heating large areas. The Sierra™ Wood Stove line with it's many models and configurations allow for placement in a zone that will help to provide heat throughout your home.
Sierra 8000
The versatile 8000TEC can be installed as either a free-standing stove or as a hearthstove in front of a masonry fireplace. This long burning catalytic stove features both front and side loading doors, interchangeable top or rear flue, ash pan, grate, glass air wash system, and will accept up to 28″ wood. Options include gold or nickel plated door, high output blower, and fireplace cover kit.
Sierra 4700TEC Insert
Sierra Ambassador 4700TEC bay window fireplace insert offers more than just great looks. It is truly a whole house heater with standard feature including wide angle view of the fire, glass air wash system, ash pan, great, and high output thermostatically controlled blower system. This long burning catalytic insert will hold 24″ logs and heat up to 3000 sq/ft.
Sierra 2100PB, Sierra 2100FS, Sierra 2100HS
Three configuration including 2100PB Pedestal, 2100FS Freestanding, and 2100HS Hearth Stove offer excellent heating performance, styling, and installation flexibility.
All stoves feature heavy duty steel construction, wide view ceramic glass, large firebox for overnight burns, simple single lever air control, and ash removal system. Additional features include outside combustions air, mobile home approval, and optional 130 cfm blower system.
Sierra 5300 Pedestal & Insert
The Sierra 5300 Cricket is small in size but big on performance with a heat output of 36,300 BTU's. It can be installed as an insert into most factory built fireplaces converting an inefficient fireplace into a true wood heater. One of the most flexible stoves available, the 5300 Cricket with the optional pedestal installs as a freestanding model and can be mobile home approved. With close clearance kit the Cricket will install with just 10″ clearance to combustible walls.
Dimensions & Specifications
STOVES

Model

Clearance to combustibles (1)

Min. Flue Draft

Wood Size

BTU Output

Sq/Ft. Heated (2)

Side

Rear

8000TEC
18″
26″
.06 wc.
28″
35,900
2000 – 2500
2100PB
13″
9″
.06 wc.
20″
42,900
2100 – 2600
2100FS
13″
9″
.06 wc.
20″
42,900
2100 – 2600
2100HS
13″
9″
.06 wc.
20″
42,900
2100 – 2600
5300w/Ped.
20″
22″
.06 wc.
18″
36,600
1000 – 1500
R-77E
36″
36″
.04 wc.
26″
50,000
2000 – 2500
R-65
36″
36″
.04 wc.
18″
35,000
1400 – 1800

Inserts

Model

Min.
Flue Draft
Wood
Size
BTU
Output

Sq/Ft. Heated (2)
4700TEC
.06 wc.
24″
42,600
2500 – 3000
5300
.06 wc.
18″
36,000
1000 – 1500

(1) Reduced clearances may apply with optional heat shields and double
wall pipe.
(2) Actual heat output and space heated is determined by: climate, home
construction, species and moisture content of wood. Check with your
dealer for further information.

Stoves

Model


Dimensions h-w-d

Weight
Flue
Size
Top
of Flue
8000TEC
27″ x 32″ x 16 1/2″
433
6″
24″ rear, 27″ top
2100PB
31″ x 27″ x 25″
310
6″
32 3/16″
2100FS
28″ x 27″ x 25″
304
6″
29 1/2″
2100HS
24 1/2″ x 27″ x 25″
296
6″
22″
5300w/Ped.
28″ x 24″ x 20″
235
6″
28″
R-77E
33″ x 18 1/2″ x 32″
219
6″
36″
R-65
35 1/2″ x 21″ dia.
179
6″
34″

Inserts

Model


Dimensions h-w-d

Weight
Flue
Size
Top
of Flue
4700TEC
22″ x 24″ x 24 1/2″
570
8″
21 3/4″
5300
19 1/2″ x 24″ x 20″
215
6″
19 1/2″